.
.
.
.
---
---
.
.
WEBINARS & ROUNDTABLES
.
.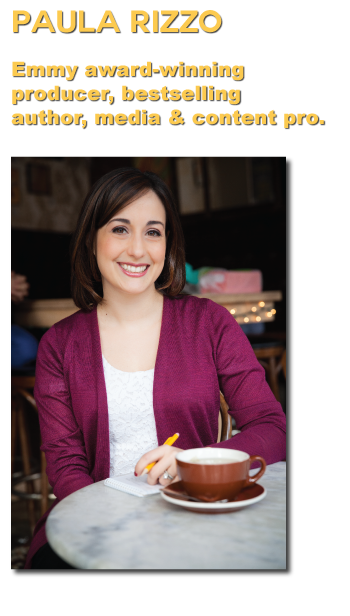 .
.
.
.
.
.
Paula Rizzo is an Emmy-award winning television producer, best-selling author, and a media trainer and strategist. As a former senior health producer for Fox News Channel for more than a decade, she produced segments with a range of top experts, including JJ Virgin, Jillian Michaels, and Deepak Chopra. A media veteran for nearly 20 years, she also worked in local news in New York City as a producer for WCBS, WPIX, and WLNY.
.
She now coaches experts and executives to perform better on camera and produce their own videos.
.
She's the founder of the productivity site​ ListProducer.com​ and best-selling author of​ Listful Thinking: Using Lists to be More Productive, Highly Successful and Less Stressed​, which has been translated into 12 languages and was featured as one Oprah.com's "Self Help Books That Actually Help."Her latest book is called, Listful Living: A List-Making Journey to a Less Stressed You.
.
She's also co-founder, with Terri Trespicio, of​ Lights Camera Expert,​ LLC – an online course geared towards helping entrepreneurs, authors, and experts get media attention. She's also the creator of ​Become A Video Star​ – a virtual workshop that empowers experts to create their own compelling videos.
.
Paula is a contributor to​ MindBodyGreen.com​,​ Entrepreneur.com​ and​ Thrive Global,​ providing productivity tips and advice.​ Paula's work has been featured​ on TV, print, radio and around the web. She's also a keynote speaker and has presented at MA Conference for Women, HOW Design Live, New York Women in Communications, Public Relations Society of America (PRSA), National Association of Professional Organizers (NAPO), American Society of Association Executives and many others. Goto P​aulaRizzo.com ​for more.
.
..
---
---
.
.
SPEAKER RECEPTION
.
.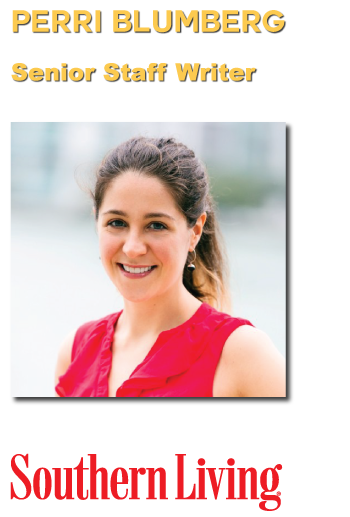 .
.
.
.
.
Perri Ormont Blumberg is a senior staff writer at Southern Living. She's also held editorial positions at Reader's Digest, Men's Journal, and Redbook.
.
As a writer, her work has been featured the New York Post, Rolling Stone, Architectural Digest, Outside, Robb Report, Oprah Magazine, and more.
.
Perri holds a B.A. in psychology from Columbia University and graduated from the Natural Gourmet Institute culinary school.
.
She's probably seen the Dave Matthews Band in your hometown. Follow her on Twitter @66PerriStreet or visit her website, VeganWhenSober.com.
.
.
.
.
.
.
---
---
.
.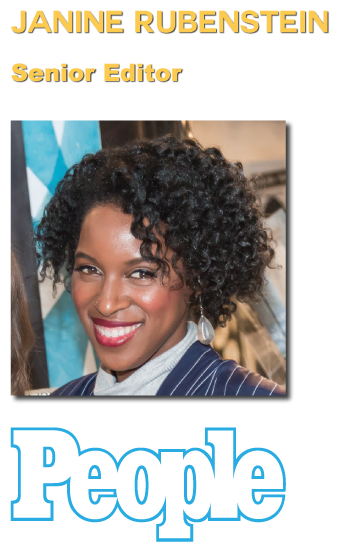 .
.
.
.
.
Janine Rubenstein is an accomplished entertainment journalist and TV personality with nearly a decade of experience covering breaking news and interviewing top tier talent on and off-camera for People Magazine, People TV and People.com.
.
At the world's most successful entertainment news brand that reaches a weekly audience of 40+ million, Janine is Senior Editor of entertainment, responsible for writing and editing cover stories and features and often speaking as an entertainment expert on Good Morning America, Today Show and Entertainment Tonight, to name a few. Prior to this role, she served as staff writer and also a crime reporter.
.
She's a San Francisco native and proud alumna of the University of California, Berkeley as well as USC's Annenberg Graduate School of Journalism. Most importantly she is the happy wife of Douglas Rubenstein and proud mom of their amazing 5-year-old son Reece.
.
.
.
.
.
.
.
---
---
.
.
.
.
.
.
.
Chelsey is a digital journalist based in New York City. As the Ecommerce Editor at Meredith Corporation, she edits and writes product-focused affiliate content across Meredith's digital titles, including Health, Shape, Real Simple, InStyle, People, Travel & Leisure, Food & Wine, and more.
.
She also works heavily on ecommerce content strategy for Health and Shape.
.
Her past work has been featured on Bustle, Elite Daily, Dance Magazine, and Philadelphia Magazine.
.
.
.
.
.
.
.
.
.
.
---
---
.
.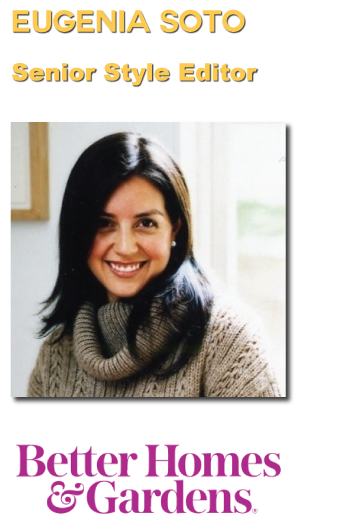 .
.
.
.
.
Eugenia Santiesteban Soto is Better Homes and Gardens's Senior Style Editor where she oversees trend stories, product pages, and interiors and has nearly 18 years of experience in the industry.
.
She has held various editorial posts at Domino, Elle Decor, and Veranda and covered design, lifestyle, style and entertaining at publications and websites including Condé Nast Traveler, Food & Wine, 1st Dibs, and the Wall Street Journal's Off Duty section among others along with content consulting for home and lifestyle brands.
.
Born and raised in Miami, Florida, Eugenia lives in Brooklyn, NY and is a graduate of Williams College.
.
.
.
.
.
.
.
.
.
.
---
---
.
.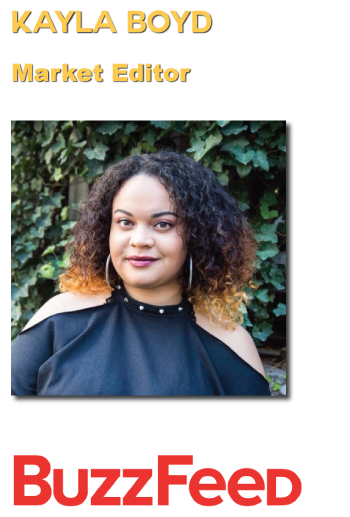 .
.
.
.
.
Kayla is a market editor at BuzzFeed, where she writes and edits shopping stories on everything from clothes to beauty to cleaning products.
.
She has previously written for The Today Show, Nylon, Fashionista, and more. Kayla has a M.A. in arts journalism from Syracuse University and a dual B.S. in journalism and fashion merchandising from Eastern Michigan University.
.
She has her own lifestyle blog, kaylaschaos.com, focusing on size-inclusive style, travel, and more.
.
.
.
.
.
.
.
.
.
---
---
.
.
.
.
.